First appeared in Western Journal
By Aron Solomon
Is Elon Musk redefining how HR is done?
That is, to be crystal-clear, tongue-in-cheek. HR professionals are ordering massive vats of popcorn to munch as they watch things like this corporate nightmare of a Twitter exchange from Monday evening: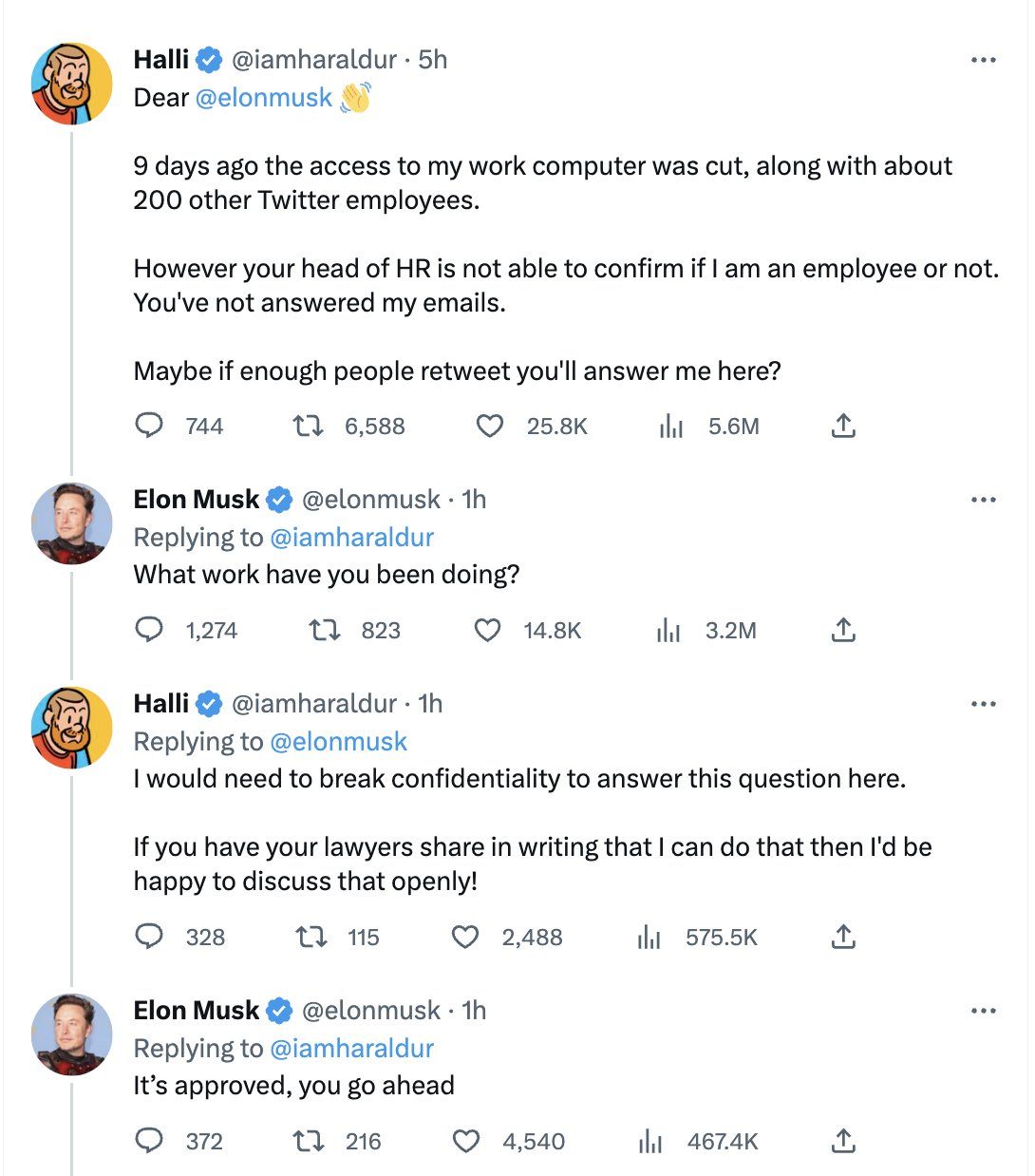 Believe it or not, it got much worse than this, with Musk opening Twitter up to a HIPAA violation by disclosing disability information about the employee, who later defended himself in a masterful thread that will surely lay the foundation for a civil lawsuit against Musk and Twitter.
There is a reason why what Musk did on Twitter is so uncommon. As attorney Krenar Camili explains:
"When a company humiliates an employee on social media, it can potentially face legal liability in several ways. The legal implications of such behavior depend on various factors, such as the specific circumstances of the incident, the laws of the jurisdiction involved, and the terms of any employment contracts or policies that may apply."
Here are some of the potential legal liabilities that a company such as Twitter may face when it humiliates an employee on social media:
Defamation: If the company makes false or misleading statements about the employee that harm his or her reputation, the employee may have a defamation claim against the company.
Defamation occurs when someone communicates a false statement that harms another person's reputation. In such a case, the employee may be able to sue the company for compensatory and punitive damages.
Harassment: If the company's actions involve repeated or severe conduct that creates a hostile work environment for the employee, the employee may have a claim for workplace harassment.
Harassment is a type of discrimination that occurs when an employee is subjected to unwelcome conduct based on a protected characteristic, such as sex, race or age. In such a case, the employee may be able to file a complaint with the Equal Employment Opportunity Commission or a similar state agency.
Breach of contract: If the company's actions violate the terms of an employment contract, the employee may have a claim for breach of contract.
In such a case, the employee may be able to sue the company for damages, including lost wages or benefits. In the thread linked above, Halli explains how he sold his company to Twitter and is owed money. There is definitely a breach of contract claim coming.
Intentional infliction of emotional distress: If the company's actions involve extreme or outrageous conduct that causes severe emotional distress to the employee, the employee may have a claim for intentional infliction of emotional distress.
In such a case, the employee may be able to sue the company for damages, as Halli would here for what any court would deem egregious, head-shakingly dumb public humiliation by his employer.
It's worth disclaiming that legal liability is not always clear-cut in these situations, and the facts of each case will determine the extent of the company's liability. For example, if the employee's conduct was the cause of the company's actions, the company may have a defense against liability. Similarly, if the First Amendment protected the company's actions, the employee may not have a viable claim for defamation. This is not the case with Twitter, though this could change in the future with Supreme Court decisions due later this year.
The lesson here for Twitter, which will fall on intentionally deaf ears, is that it's important for companies to be mindful of the potential legal consequences of their actions, particularly when using social media to communicate with the public. By treating employees with respect and dignity, companies can avoid potential legal liability and maintain a positive reputation in the community.
The problem is this: For every rational person who understands that someone who owns a $44 billion company shouldn't act this way in private or certainly in public, many applaud this as the management style of the future.
Of course, if this is indeed a style that other leaders will emulate, it will do one thing for certain — create plenty of new work for lawyers.
About Aron Solomon
A Pulitzer Prize-nominated writer, Aron Solomon, JD, is the Chief Legal Analyst for Esquire Digital and the Editor-in-Chief for Today's Esquire. He has taught entrepreneurship at McGill University and the University of Pennsylvania, and was elected to Fastcase 50, recognizing the top 50 legal innovators in the world. Aron has been featured in Forbes, CBS News, CNBC, USA Today, ESPN, TechCrunch, The Hill, BuzzFeed, Fortune, Venture Beat, The Independent, Fortune China, Yahoo!, ABA Journal, Law.com, The Boston Globe, YouTube, NewsBreak, and many other leading publications.